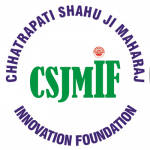 Chhatrapati Shahu Ji Maharaj Innovation Foundation
Section 8 Company Promoted By
Chhatrapati Shahu Ji Maharaj University, Kanpur
CSJM INNOVATION FOUNDATION
CSJMIF is a section-8 company (Not for Profit Organization) promoted by CSJM University established to foster the spirit of entrepreneurship in the State of Uttar Pradesh. Being a sector-agnostic techno-business incubator the nourishment pertaining to the growth of a startup in terms of hand-holding, mentoring, product/service development, pilot runs, product validation, market access, and acceleration is provided.
The VISION is to turn teachers, faculty, students, and future residents of the State into business owners in order to develop an ecosystem of entrepreneurial endeavours and make Uttar Pradesh the hub of innovation and startup activities.
To achieve this CSJMIF runs 3 incubation models:
Pre-Incubation: for business-worthy potential ideas to establish problem-solution fit | CSJMIF provides the right set of tools and guidance to the Ideators to develop a prototype or an MVP.
General Incubation: the most preferred model! it is for the startups between the early traction stage and the growth stage
Accelerator: only for the startups and ventures at the growth stage or scale-up stage
दिनांक 20 फरवरी, 2023 को छत्रपति षाहू जी महाराज इनोवेशन […]
आज दिनांक 25 फरवरी 2023 को छत्रपति शाहूजी महाराज इनोवेशन […]
छत्रपति शाहूजी महाराज इनोवेशन फाउंडेशन एवं भारतीय स्टेट बैंक विश्वविद्यालय […]
दिनांक 29 जनवरी, 2023 को छत्रपति षाहू जी महाराज इनोवेशन […]
दिनांक 27 जनवरी, 2023 को छत्रपति षाहू जी महाराज इनोवेशन […]
दिनांक 22 जनवरी, 2023 को छत्रपति षाहू जी महाराज इनोवेशन […]
दिनांक 11 जनवरी 2023 को छत्रपति शाहू जी महाराज इनोवेशन […]
दिनांक 21 दिसम्बर 2022 को छत्रपति षाहू जी महाराज इनोवेशन […]
CSJMIF is committed to building a startup ecosystem for Bharat connecting it with local and global audiences contributing to the growth and success of emerging grassroots innovations and technology businesses.
CSJMIF has set for itself the following objectives:
Create a platform to nurture and translate ideas into technological innovations and business enterprises by providing the right set of hand-holding in terms of Technology building, Business Development, Market Access, and Fund-Raising.
Develop an entrepreneurial attitude in students and faculty by incorporating it within the academic framework.
Create an environment to promote the spirit of entrepreneurship at the grassroots level (tier-3 to rural audience) and forge an army of job creators not the job seekers
Amalgamate academia, industry, supporting agencies, as well as government sectors, to create further entrepreneurial avenues.
Create awareness regarding the various Government policies supporting Make in India" through workshops, awareness drives, Annual Start-Up Fest, and incentives in form of awards,
Empower students and the teaching faculty to file Intellectual Property for their innovations and ideas. etc.
Run capacity building and upskilling programs to benefit all the stakeholders associated with CSJMIF.
To transform the university campuses into Product Innovation Centres (PIC).
Submit Your Innovative Idea